Privileged: "All About What You Really, Really Want"
Sage once again amazes us. Last week, it was sisterly love advice. This week, it's computer software design? But the focus quickly turns off Sage and onto Rose's seemingly opposite situation -- failing freshman year.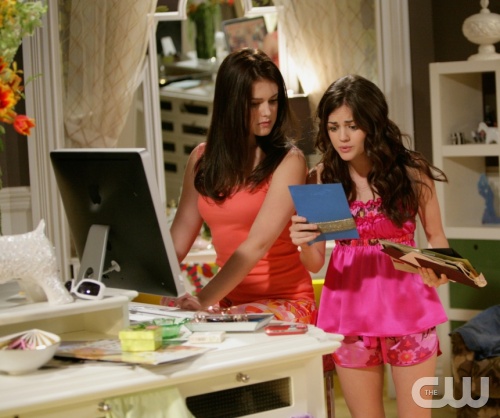 Jumping onto more juicy gossip, we hear the full story of what happened with Megan and Lily. The shock alone of walking in on your sister with your boyfriend is enough to make us even want to run away. It was only the first few minutes, and we were successfully being annoyed by Megan's sister. Whatever sympathy we felt last week totally went out the window.
But Charlie and Megan's meeting on the beach brought up a good point. Perhaps Lily wasn't purposely "stealing" Will. Maybe she didn't know. Now we are back to feeling kind of sorry for the way Megan treats Lily. We've gone back and forth on this issue more times than a two -year-old on a teeter totter.
However, all is well again when we see Jacob, the girls' headmaster that Megan has to convince not to keep Rose behind. If only our lives were filled with as many, successful, nice and handsome men as Megan's. Then again, we don't live in Palm Beach!
And what about the new Rose study plan? Will we start to see more tutoring, finally? Can Rose do it? It's going to mean missing out on a lot of events, something Sage immediately opposes. And, ugh, for all of Sage's whining and bantering about how she wants to protect and take care of Rose, she is such a bad influence. Pulling Rose out of school to go shopping - does she not see she is doing Rose no good!
Now that we're feeling even a little guiltier for our earlier assessment of Lily, the sister who has to play a game of telephone to find out what's up with Megan, we finally get to see her side of the story. Why doesn't Charlie just come out and say something to Megan? Perhaps if he just lets Megan know how Lilly feels, the sisters could start the healing process.
On to a few awkward moments with Megan and Will -- and we still don't understand why she turns him down. He is obviously looking for a signal to make a move. In that moment on the yacht, her brain may have it all reasoned out but it definitely seemed like her heart was telling her something different.
And what about the heart-to-heart talk with Rose? Did she get through? Rose and Sage study – finally -- and all it took was Rose voicing what she wanted to Sage. But will it last? Plus, Megan once again finds comfort and advice while trying to make the girls better people. We like how they live and learn together. Megan seems to be becoming a better person as she tries to make the girls better people.
We do have to admit though, after Megan's epiphany about being scared to date, we like her choice. Jacob is so right for her. They are cute together and seem to have long-term potential. Rich Will is from too different a world and Charlie is too much in the friend zone.
Were Megan's original instincts right? Should they not date because of the conflict of interest? What did you think of the episode? Let us know in the comments!