Early review: Stone Temple Pilots at Pier Six Pavilion April 26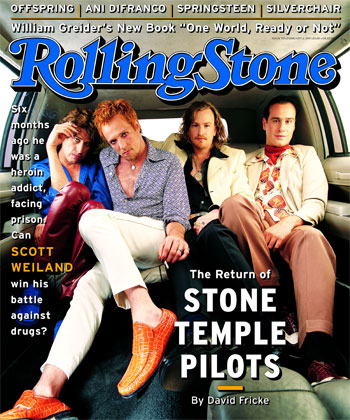 Stone Temple Pilots kicked off Pier Six's concert season Tuesday night. Frequent Midnight Sun contributor Jeremy Trucker has this review.
One of the biggest draws for concert-goers at a Stone Temple Pilots show is seeing in what type of condition front-man Scott Weiland in in when he takes the stage.
From the start of STP's set opener "Crackerman," it was clear Weiland was ready to play to the crowd of nearly 3,000 who came to see the grunge holdouts open the concert season at Pier Six Pavilion.
The band's 90-minute, 17-song set covered all of the bases, including five songs from their 1992 debut album, "Core." Despite a few longer-than-necessary song breaks, the band, led by Weiland's charisma and trademark deep vocals as well as the Deleo brothers' guitar work, had the crowd at its feet for the duration of the evening.
The hit-laden show was heavy on the band's early catalog, with only a couple of songs from their eponymous 2010 post-reunion album.
The band seemed game to play the classics, and the foursome appeared in unison following a two song encore to thank the chanting crowd of supporters, most of whom were there to relive their 90s-era youth.
If Tuesday night's set is any indication, a healthy Stone Temple Pilots have the chops and the fan base to play the amphitheater circuit for years to come, with or without new material.
A longer review will be posted later today.

Jay Trucker is a frequent contributor to Midnight Sun. He teaches at the Community College of Baltimore County in Dundalk and blogs occasionally at WNST.net. Erik Maza edited this post.

Posted by
Erik Maza
at 8:33 AM |
Permalink
|
Comments (7)
Categories:
Concert reviews