New bar The Park Bench opens in South Baltimore, replacing Boomer's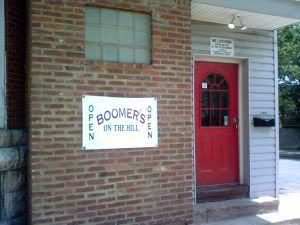 South Baltimore has a new bar called the Park Bench.
The place where Boomer's on the Hill used to be officially re-opened November 6 without much fanfare or even a sign.
It had been under renovation for a year.
Owner Stephen Gronowski, who's also a manager at Don't Know Tavern, said he hopes the place will become "a nice little neighborhood spot."
The bar carries a small beer selection and sits about 40 people, Gronowski said.
Boomer's, which was well known for its Wii, closed in November 2009. Gronowski took over a couple of months later.

Park Bench has 8 beers on tap - including Heavy Seas and Guinness. Gronowski said he wants to have ten bottled beers soon. He also plans to add food early next year.

Alcohol is moderately priced. Calls are $6 and drafts are in the $4-$5.50 range, Grownoski sai.
There's still work to be done: a sign hasn't yet been posted outside, and the name is still somewhat undecided on; Gronowski has gone back and forth between The Park Bench and just Park Bench. (He also doesn't know if or when there will be a grand opening; this is his busy season at Don't Know.)
But "there's definitely room for growth," the owner said.
Grownowski spent a year renovating the space with a couple of friends, as he worked his day job at Don't Know.
Though he was business partners with Jason Zink of No Idea and Don't Know, for a year and a half, it's his first solo project.

"I was looking to do something on my own," he said.
The Park Bench is at 1749 Belt St. It is open Tuesdays through Saturdays from 6 p.m. until 2 a.m.
Photo: Sam Sessa

Posted by
Erik Maza
at 1:02 PM |
Permalink
|
Comments (7)
Categories:
Bars & Clubs