Canton on game day: Ravens specials, Joe Flacco hot dogs, Claddagh Pub and overall sensory overload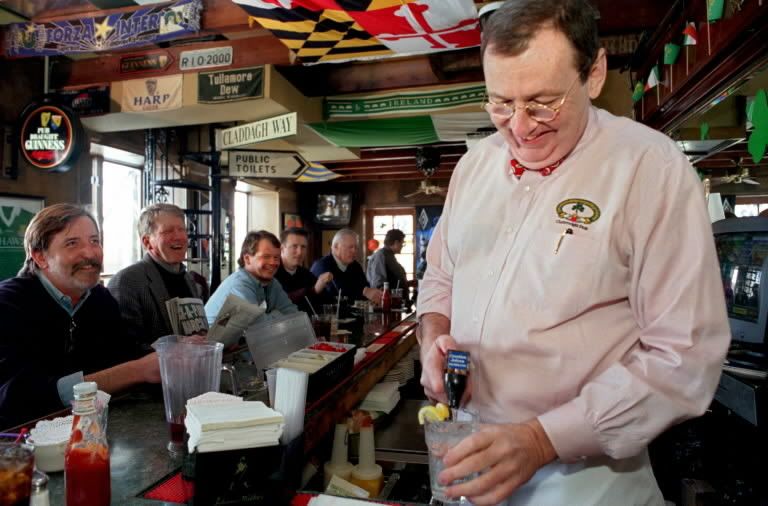 Contributor Jay Trucker spent a day barhopping in Canton on game day.
On your average Fall Sunday afternoon, Canton Square is full of jersey-wearing football fans yelping, cheering, cursing, and bro-high-fiving with child-like abandon.
That's because despite all of the well-deserved criticism the area may draw for its lack of variety, Canton certainly doesn't want for sports bars.
Southeast Baltimore bars offer cheap specials, are noticeably co-ed, and cater to fans of different teams.

Because of the area's transplant professional population - and their varying franchise loyalties - most bars will show each game on one of their many flat-screens, though sound is only piped into the speakers for a single game at a time.

This will sometimes create an awkward dilemma, such as the one I faced at Claddagh Pub last week. At the two-story bar, patrons had to listen to the Redskins game while watching the Giants. Think that's difficult? Try patting your stomach and rubbing your head at the same time.
And while most football specials in Canton favor domestic beer and wings, a few places have tried to branch out.
Coburn's sells a "Joe Flacco" special: two hot dogs and cheddar wrapped in puff pastry. What does this have to do with the Ravens' third year QB? Maybe it's a University of Delaware thing. I'm not about to find out.
If you're in the mood for reduced-calorie island brew with your gridiron, Looney's sells Red Stripe Light bottles for $3 a pop during games. With the exception of the Mama's on the Half and Nacho Mama's "no specials zone," most places in Canton offer domestic bottles in the $2 range and pitchers in the $8 range.
Looney's and JD's are typically the most crowded bars on the block. Last week, Looney's had the New York Giants game piped into the speakers during the early games, but by the time Eli Manning lined up in the victory formation, a sizable group of Ravens fans had claimed seats on the first and second floor in preparation for the the late kickoff.
The key to good TV sight-lines is arriving at least a half an hour before kickoff, especially at Looney's or JD's Smokehouse. Coburn's provides a worthwhile alternative for latecomers as it is usually the last to fill. Coburn's gives away free sugary purple shots to all bar patrons when the Ravens score a touchdown and occasionally puts out a free munchie buffet.
For my money, though, Claddagh Pub offers the best specials with the most elbow room in Canton. Their menu includes most football food staples (except nachos) and their kitchen, though a bit slow, offers higher quality grub than their neighbors.
That's maybe because the bar doubles as a quality restaurant during lunch and dinner hours. A pitcher of domestic beer and 30 wings are $16.95. For ten dollars more, fans can upgrade to a beer tube that will probably last a table the entire game. Shrimp, oysters, and fresh squeezed orange crushes are also on special.With its three bar areas, it's also relatively easy to grab a seat.

Fans of any team can also try Baltimore Taphouse, O'Donnell's or Saute, off-the-square bars in Canton with the NFL Ticket. It can be hard to find seating and your game of choice in one of these smaller neighborhood bars on an NFL Sunday, so be ready to scout a few spots before finding a place to settle in.
Steelers fans will be zoned in at NcDevin's. And I was once cursed at during a trip to Butt's and Betty's for asking the bartender to tune a television to the Giants game.
And here's another thing: in Canton, game day is not just a Dude's Day. The football bar scene in Southeast Baltimore is populated with nearly as many women as men lining the window seats in and around O'Donnell St.
It's said that game days are some of the most profitable for the pizza industry. You could keep helping them out. But, in the experience of this Southeast Baltimore resident, a Sunday afternoon of cheap bar hopping in Canton beats Domino's delivery any day.
Jay Trucker teaches English at the Community College of Baltimore County, lives in Southeast Baltimore, and eats Old Bay wings on Sundays. He previously reviewed the first Baltimore Beer Festival. Erik Maza edited this post.
For Baltimore's best Ravens bars, Midnight Sun's Live! cover story is here.

Photo: Claddagh Pub (Amy Davis/Baltimore Sun)

Posted by
Erik Maza
at 1:35 PM |
Permalink
|
Comments (4)
Categories:
Bars & Clubs