The review: The Metro Gallery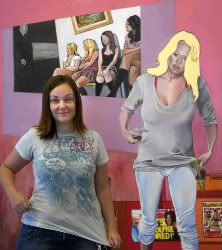 Well, I finally got around to reviewing the Metro Gallery (1700 N. Charles St.).
Here's the link to the piece, which ran in today's paper.
UPDATE: Ah crap I forgot to post the link. Here it is.

Took me long enough, right?
But owner Sarah M. Williams recently started opening the place regularly, so I could justify a full-length review.
I should have gotten there sooner, but honestly, I didn't know whether the Metro would last long. So many under-the-radar galleries and live performances spaces either go under or never get off the ground in the first place.
Not so with the Metro.
Nice job, Sarah.

(Sun photo by Jed Kirschbaum)

Posted by
Sam Sessa
at 12:21 PM |
Permalink
|
Comments (4)
Categories:
Bars & Clubs
,
Local music