City beer pong ban fizzles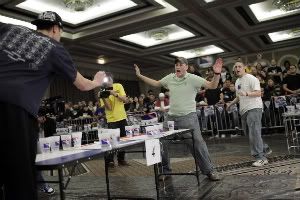 Let me start by saying I'm so sorry for not posting these past couple days. Regular Midnight Sunners know that I never, never go two weekdays without posting something, unless I'm on vacation.
Since Monday, I've been chasing this story about a state senator who proposed a city-wide ban on drinking games such as beer pong and flip cup. Yesterday, I went to Annapolis, sat through a Senate session and spoke with Sen. George W. Della Jr., who drafted a bill which reads:
"A holder of a retail alcoholic beverages license or owner or operator of a bottle club may not promote, encourage, or allow on the premises a game commonly known as beer pong or any other game or contest that involves drinking alcoholic beverages or the awarding of drinks of alcoholic beverages as prizes." ...

As you can imagine, this set of all kinds of protests from local beer pong players. I spend days talking to legislators, experts, beer pong players -- anybody even remotely involved with this issue. The bill was slated for a hearing tomorrow, and the piece had a chance of going on the front page.
Then I get a voicemail today from Della, who said he decided to withdraw the legislation.
"We're getting inundated with so many e-mails that I don't have the time to fool with it," he said. "I just hope that if people continue doing it, they do it in a way that there's not excessive drinking and disrespect for the surrounding neighborhoods."
The bill, SB 233, never even got to committee. And thus, the short, fiery saga of Baltimore's beer pong ban comes to an end. At least now I'm back on the blog.
Any thoughts you'd like to share about this hot topic?

(AP photo)

Posted by
Sam Sessa
at 12:56 PM |
Permalink
|
Comments (27)
Categories:
Bars & Clubs