Pong Bar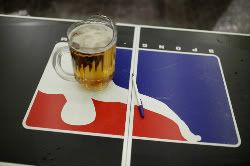 Since it's still legal to have beer pong, I think it's time to introduce my latest awesome bar idea: Pong Bar.
At Pong Bar, you can play beer pong, Ping-Pong and Pong, the Atari game. Our signature drink will be the Pong Tang -- vodka and tang in a martini glass, rimmed with salt and garnished with sardine.
Now that's what I call stylin' and profilin'.

I might even buy the pong that Michael Phelps smoked and put it in a jeweled display case behind the bar. Isn't that what they call those things? Pongs?
Hee hee.
Thanks to Patchen for the inspiration.
(AP photo)
Posted by
Sam Sessa
at 2:27 PM |
Permalink
|
Comments (1)
Categories:
Bars & Clubs