DTV: The story behind the story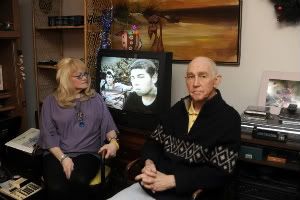 I don't normally do this on Midnight Sun -- especially if it's not directly nightlife related -- but I want to share the story behind today's piece* about the digital TV conversion.
Just before lunchtime, my editor Tim Swift (of Swift Picks fame) came over to my desk.
"Sessa!," he growled, "We need people with bunny ears, and pronto!"
"But it's not Easter yet, sir," I said.
"Not bunny ears like the costume, you dimwit, bunny ears like on TV sets," he said.**
Then Mr. Swift had a stroke of baldness ... I mean ... brilliance ...

He told me to go to this apartment high rise building in Mount Vernon and look for sources.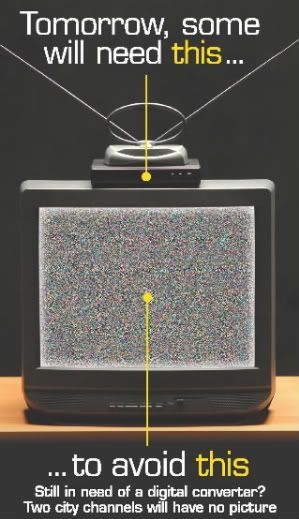 When I got there, I talked to people in the lobby, people in the lounge and people in the laundromat. No luck.

Disheartened, I was about to leave when I ran into the gentleman in the top photo. His name is Steve Finckel, and he said he thought he and his wife Janice Stephenson still had regular old TV.

Sure enough, he was right. It was my lucky break!
I sat down and interviewed them, and Stephenson became the intro to today's piece.

Part of the reason why I wanted to tell you this story is that we took their picture, but didn't have room for it in the paper. Since they don't have cable, I seriously doubt that they have the Internet.
But I wanted to post it here, in the hopes that somehow, someone would recognize them and show it to them.
Thanks again for all your help, Mr. Finckel and Ms. Stephenson. You saved my day.

*The piece ran on the front page, if I may say so myself. In short, BOOYAH!
**This exchange has been modified from its original version. It has been formatted to fit your screen ... and highly embellished for your reading pleasure.
(Top photo by Sun photographer Barbara Haddock Taylor. I'm not sure where this graphic comes from, but it ran on our front page.)
Posted by
Sam Sessa
at 4:43 PM |
Permalink
|
Comments (8)
Categories:
Random stuff