Concert review: Emmylou Harris, Patty Griffin and Buddy Miller at the Meyerhoff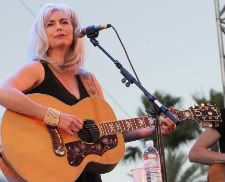 If you take a folk or country music song all the way back to its beginnings, most times you end up with a couple of singer/songwriters sitting on a back porch somewhere strumming acoustic guitars.
Emmylou Harris (pictured), Patty Griffin and Buddy Miller brought that same intimate, informal setting to the Meyerhoff last night.
The show, in support of the Mammojam Music Festival, nearly filled the symphony hall.

They sat on stage and performed in a songwriter's circle, offering just as many original songs as covers ...
Between songs, they'd tune their guitars and tell jokes and stories about why they picked the songs they did. Griffin did a fiery rendition of the traditional tune "Samson and Delilah," Harris tugged at my heart strings with "Red Dirt Girl," and Miller marveled at the fact that he was even on stage Harris and Griffin.
In truth, Miller more than held his own. When Harris or Griffin played a song, he added tasteful guitar fills and backing vocals. And when it was his turn, his warm voice and skillful picking made it plain why he was up there.

I've been to a lot of concerts, and that one is going to stay with me for a long time.
(AP photo)

Posted by
Sam Sessa
at 3:30 PM |
Permalink
|
Comments (2)
Categories:
Concert reviews