Changes at Charlotte's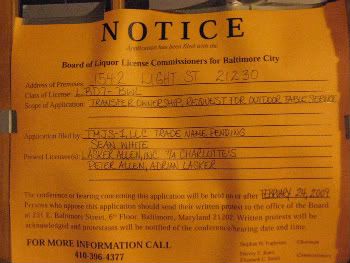 Midnight Sunner Evan snapped this shot of a transfer of ownership posting outside the now-defunct Charlotte's on Light Street in South Baltimore.
Looks like someone named Sean White is taking over the place, though he doesn't have a company name posted yet. I nominate Pong Bar.
But seriously folks. it's good to see new bars opening despite the recession.
(Photo by Evan)

Posted by
Sam Sessa
at 9:39 AM |
Permalink
|
Comments (6)
Categories:
Bars & Clubs