Why the Ravens lost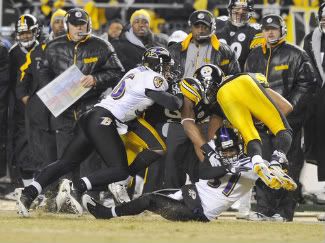 Granted, this isn't really totally (or even remotely) nightlife-related, but I want to take a second and tell you why the Ravens really lost. It wasn't because quarterback Joe Flacco choked or anything like that.
It was because Baltimore didn't turn purple.

Do you remember two years ago when we made that awesome 13-3 run? All the streetlights in this city had purple gels on them. Everything was purple.
Not this year. I wonder why? Was it the recession? Were purple gels too expensive? Or was it lack of motivation due to extreme coldness?
Either way, if you're searching for a reason, look no further.
(Photo by Lloyd Fox/Sun photographer)

Posted by
Sam Sessa
at 1:11 PM |
Permalink
|
Comments (13)
Categories:
Random stuff