What would your ideal basement bar look like?
If you took the time (and had the money) to build a basement bar, what would yours look like?
This photo is of a basement bar in Timonium, and has a hunting lodge feel to it, with all the wood and whatnot. I'm not sure how I feel about it, actually. Might be a little too ... earthy ... for me.
My basement bar would have a bar made of solid gold, with bacon-paneled walls and a bar topped with genuine buffalo leather. Instead of bar stools, I'd have giant, custom-made leather armchairs. I'd have champagne on tap, and everyone would drink out of pewter beer horns.

Thoughts?

I dug through our photo archives and found some other basement bars in and around Baltimore. Check 'em out ...

This particular basement bar is too clean and streamlined for my tastes. I wonder how comfortable those chairs are, too.
Meh.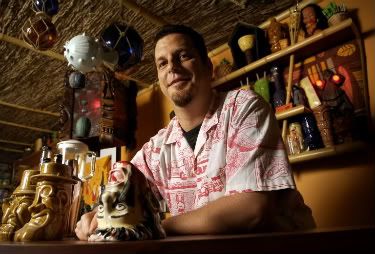 Now this is more like it.
Check out the photo caption:
For several years Chris Bannister has been lusting for an original "Ren Clark severed head" mug for his basement Tiki bar and collection. Ren Clark was a magician who operated a famous, now-defunct, tiki bar in Texas.
The wooden heads were part of the decor and now go for several hundred dollars apiece on EBay. Bannister, however, found a California sculptor who made reproductions for $30. The Ren Clark head will be the perfect addition to his basement bar, recently remodeled in tiki style.
YES! YES! YES!
Now, what would your basement bar look like?

(Top photo by Sun photographer Kenneth K. Lam. Middle photo by Sun photographer Algernia Perna. Bottom photo by Sun photographer Christopher T. Assaf)

Posted by
Sam Sessa
at 11:52 AM |
Permalink
|
Comments (5)
Categories:
Bars & Clubs
,
Random stuff