Slumming it at Lux
Well, perhaps that headline is a little harsh. Maybe it should be something like "Warming up at Lux." But we were definitely slumming it. More on that in a minute.

Here's the back story: After seeing President Barack Obama speak on War Memorial Plaza on Saturday, a few friends, Amie and I were walking south on Calvert Street when a dude caught our attention.
He was hyping half-price drinks and free food at Lux (10 S. Calvert St.), the new upscale lounge that recently opened where several other high-end clubs have failed.
Us: Half price drinks and free food, you say?
Dude: Yes indeed!
Now what half-frozen, winter-weary crowd member is gonna turn down cheap drinks, free food and a warm seat? So we went in for a bit ...

Keep in mind, each of us had at least three layers of clothing on. Just about everybody there did, in fact, which made Lux look like a ritzy ski resort lounge.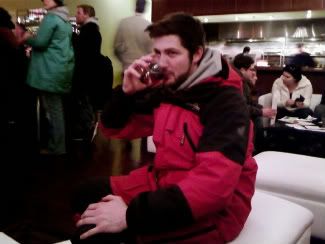 Dig this photo of Crazy Joe sipping a glass of whiskey in his bright red jumpsuit. Hee hee.

I got the impression that the bartenders were totally unprepared for the wave of people that crashed the place immediately following Obama's speech. They weren't slammed, but they were hopping.
We walked up to the bar and asked them if they had any hot drinks. Nope, said the bartender. So we ordered a couple glasses of wine and some other drinks. Then I looked down the bar and saw a women with a pot of tea.
No hot drinks, huh? I pointed the tea out to the bartender, who checked on the situation and realized they did indeed have coffee and tea. So Amie swapped her wine for a cup of coffee with Bailey's Irish Cream in it. Mmm.
I haven't been in this building since this past summer when it was Dubai. And even then, former manager Jon Han had the downstairs closed off. So it's been a good two or three years since I've been downstairs. But for all that time, it doesn't look like the place has changed all that much. The puffy white couches and seats look new, but the bar itself looks pretty much the same.
The wait staff routinely brought around samples from the kitchen, including fancy meatballs and veal cheeks, but they were nothing to write home about. But hey, they were free, and free makes everything better.
I'd much rather discuss the tab, which included four drinks but came to a mere $16! Now that's what I call a deal. I've been getting emails from one of Lux's managers, who says he has some pretty interesting plans for the place. I'll call him and post more about Lux in the near future.

(Photos by yours truly)
Posted by
Sam Sessa
at 8:00 AM |
Permalink
|
Comments (6)
Categories:
Bars & Clubs