Is it wrong for bars to ask for credit cards when you start a tab?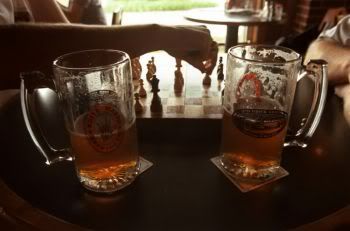 A couple days ago, a colleague brought up an interesting point about bar tabs.
He was at a Mount Vernon bar/restaurant with a friend, and ordered two drinks. The place wasn't that full, but they still asked him for a credit card. He took offense.
My colleague felt that since the place wasn't full, the bartender should have just given him the drinks and started a tab -- without asking for a credit card.
He felt that in asking for a credit card, the bartender implied that he was going to skip out on his bill.
This raises an interesting point, methinks. Is it wrong for bars to ask for credit cards when you start a tab?
Personally, I think it depends on a few things ...
If the bar is slammed and they don't know you, they're probably going to ask for some insurance that you're not going to skip out on your tab. Some bars have permanent policies where they require a credit card to start a tab. I've even seen signs that say as much.

But I think that if you're in a corner bar, or even a more upscale spot, they shouldn't ask you for a credit card. Take a place like the Idle Hour (201 E. Fort Ave.), where the bartenders write down what everybody orders and give them a bill when they tab out. It's a small corner bar, but I've seen a lot of people in there from time to time, and it can be tough for them to remember everything correctly.
Still, they don't ask for a card, and I respect that.
One time back in college, I spent two nights at the Four Seasons in Los Angeles. Both nights, I had a drink or two (and even a cigar once) in the hotel bar. The first night, I was leaving in a hurry/slightly tipsy and forgot to pay my tab.
When I went back the second night, the bartender or manager on duty must have recognized me, because when I got my check at the end of the night, it included my previous night's expenses.
I understand why some city bars ask for a credit card before starting a tab. I'm kind of used to it by now. But I think the sign of a really good bartender is one who doesn't need to take your credit card.
What do you think?

(Photo from Sun archives)
Posted by
Sam Sessa
at 9:30 AM |
Permalink
|
Comments (32)
Categories:
Bars & Clubs