Do hangover cures really work?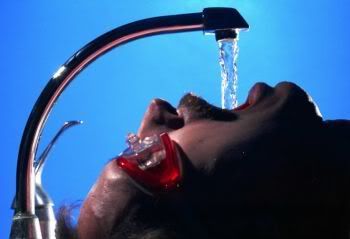 Sun blogger Liz (of Consuming Interests fame) asked if I'd ever done a post about hangover cures. For some reason, I don't think I have.
That's probably because when I have a hangover, I don't want to write about it. And when I'm not hungover, I try not to think about being hungover.
Usually, I just guzzle water all day (much like the person in this photo).

But Elizabeth Large's (technically OMG) blog post about ancient hangover remedies about a week or two back, which jogged my memory. And while I'm sure I'm not the first person to write about hangover cures, I'm really curious to see what your own remedies are.
Also, our favorite medical site, WebMD, recently published a guide to hangover cures, although it was more of a guide of what not to take for a hangover ...

I have a few quibbles with some of the things WebMD is saying in this piece. Dig this:

WEBMD MYTH: Coffee is the Cure

WEBMD FACT: Coffee leads to more dehydration and could make your hangover worse. After a night of drunkenness, it's best to avoid anything with caffeine. Instead, sip water and sports drinks to counter dehydration and replace lost electrolytes. This is especially important if you experienced any vomiting.
Sam's take: If I don't have a hangover, skipping coffee in the morning will give me one.
WEBMD MYTH: Eat Pasta Before Bed

WEBMD FACT: This one is wrong on two counts. First, eating at bedtime (after you're already drunk) is no help. Food has to be in your stomach before Happy Hour to have any impact. Second, while any food can slow the body's absorption of alcohol, fat does it best. So go for steak or pizza before your first martini, and you might escape a hangover. One bedtime tip that does help – drink water to fight dehydration.

Sam's take: As an Italian, I object to such heresy. Eating something post-drink and pre-bed makes me feel much better in the morning. It's like the food acts as a sponge, sopping up all the alcohol in my tummy. But I do love steak, regardless of whether I'm drinking. Maybe I ought to drink more when I have steak. Mmm ... steak.
WEBMD MYTH: Wine is the Gentlest Choice

WEBMD FACT: Red wine contains tannins, compounds that are known to trigger headaches in some people. Malt liquors, like whisky, also tend to produce more severe hangovers. If you're worried about how you'll feel in the morning, the gentlest choices are beer and clear liquors, such as vodka and gin.
Sam's take: You think wine is bad? Try champagne. Senior year of college, we used to have Champagne Tuesdays, where we'd each drink a bottle or two of champagne on a Tuesday night (duh). This little tradition only lasted a couple weeks, because Champagne Tuesdays always gave way to Migraine Wednesdays. My temples still hurt thinking about it.
If you have your own takes on these hangover issues, or your own personal hangover remedies, now if the time to share them.
Right ... NOW!

Posted by
Sam Sessa
at 10:54 AM |
Permalink
|
Comments (22)
Categories:
Bars & Clubs