Coachella lineup announced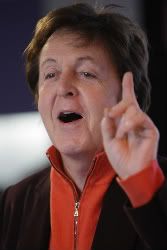 The lineup for this year's Coachella Valley Music and Arts Festival was announced last night. Thanks to Quarterlifeparty for giving me the heads up.

Here are the big names, broken down by day -- complete with the occasional parenthesized quip:
Friday, April 17
Paul McCartney (wow), Morrissey (so much for a Smiths reunion, eh?), Franz Ferdinand (one-hit wonders?), Leonard Cohen (love his songs when other people do them), Conor Oberst, the Black Keys and Girl Talk

Saturday, April 18
The Killers (sigh), Amy Winehouse (if she lives), Thievery Corporation, TV on the Radio (nice), Band of Horses, Fleet Foxes (reverb = awesome), MSTRKRFT
Sunday April 19
The Cure (the more there is of Robert Smith, the more there is to love), My Bloody Valentine, Yeah Yeah Yeahs, Lupe Fiasco, Public Enemy, Jenny Lewis, and I'm having a hard time finding big names here because there aren't many this day.
Here's a link with the full lineup.

You gonna go?

(AP photo)

Posted by
Sam Sessa
at 10:06 AM |
Permalink
|
Comments (7)