Can you put a time limit on a reservation?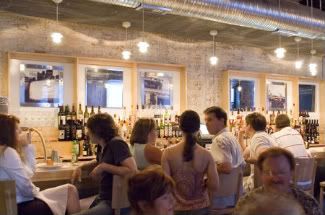 This might sound like something more suited for Dining@Large, but Elizabeth Large writes about drinks from time to time, so here we go.
Midnight Sunner AC-M sent me this interesting inquiry yesterday, and I'd like to get your opinion on this:

For Christmas we bought my in-laws, who hail from Harrisburg, tickets to the show at Hippodrome on Saturday at 2 p.m. and planned to take them to Fells post-show for drinks and hit Henninger's later for dinner.
Well, as I live in a bubble, I just learned about Obama coming to Baltimore which completely destroys any hopes of that plan going smoothly and makes crossing the city to get to Fells Point a definite NO.
We decided to hit Wine Market instead (i.e. stick to the Federal Hill side of town). When my husband called to make reservations at the Wine Market (921 E. Fort Ave.) they gave us a table reservation at 6 p.m., but we were told that our table was reserved for 8 p.m. so we had to be out by then ...

And that is the point of my email – if you are going to give me a reservation, I certainly don't expect to hog the table all night; but I really didn't like being told I had to be out by 8.
This is a table of 4 we are talking about; for a large party, I would understand, but they have multiple tables available for a party of 4. I don't know, maybe I'm being sensitive?

(Photo from the-wine-market.com)

Posted by
Sam Sessa
at 10:34 AM |
Permalink
|
Comments (28)
Categories:
Bars & Clubs