Blast from the past: Max's on Broadway
Maybe I'm being a little too ambitious here at the start of 2009, but I'd like to beef up Midnight Sun with a few occasional features. I'll save them under various headings in the sidebar to the right of your screen.
When I was digging through The Sun's digital photo archives a couple days ago for the Belgian Fest post, I found this old pic of Max's on Broadway (735 S. Broadway) from 1995.
Wow.
Look at the Formstone! And the tacky yellow banner! Man oh man, Max's sure has come a long way since then.

That's owner Ron Furman standing out front with his hands on his hips, staring off into the distance. He actually looks better then.
Zink!
On a side note, I knew that Max's used to host live music back in the day. But I never knew that Hunter S. Thompson spoke there ...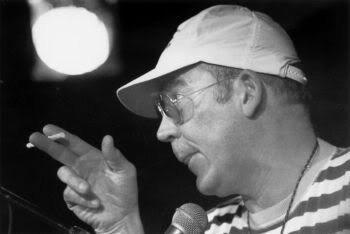 Here is the Gonzo journalism pioneer, speaking at Max's on Broadway in 1991.
Were any of you Midnight Sunners there?
I was way too young to even think about going to a bar in 1991. But I'll bet somebody out there remembers going to this.
Wild stuff.

(Photo of Max's by Sun photographer Jed Kirschbaum. Photo of Thompson by Sun photographer Kenneth K. Lam)

Posted by
Sam Sessa
at 12:49 PM |
Permalink
|
Comments (8)
Categories:
Bars & Clubs