Blast from the past: Jack Daniels Amber Lager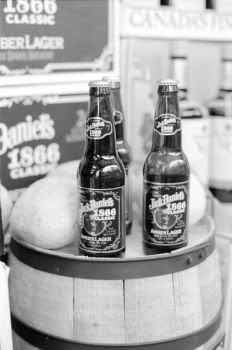 I'll bet you didn't know that Jack Daniels made beer.
Well, they didn't make beer for all that long. But they did make beer.
This is a photo I found from The Sun's archives, dated March 8, 1995. I like the wooden barrel and unmarked sacks of something. Very rustic.
Here's the caption: Riding the crest of the microbrewery craze, Jack Daniels 1866 Classic Amber Lager goes on sale this week at many Baltimore area bars, restaurants, and liquor stores. This display is at 7542 Bel Air Rd.
The microbrewery craze may or may not be dying down some, but the wave Jack Daniels rode most definitely crashed.
I actually found a Web site of a Jack Daniels collector with tons of info and photos about Jack's beer line.
(Photo, as previously stated, from Sun archives)

Posted by
Sam Sessa
at 12:04 PM |
Permalink
|
Comments (1)
Categories:
Bars & Clubs