Another credit card question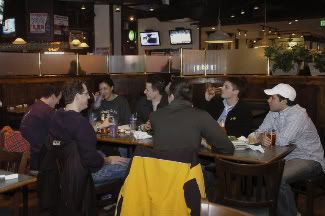 Sorry if I'm beating everybody over the head with credit card stories. But I've got one more share. Then, I promise, I'm finished. At least for a little while.
This one's from Midnight Sun reader Liz, who recently had lunch at a local bar/restaurant. She writes:

We attended Purple Friday at the Green Turtle in Towson (pictured) when all the cheerleaders and Raven Employees stopped by for the Titans game.

When we got to the GT we found two seats at the bar, sat down and ordered drinks and food. We didn't recognize the lunch staff, but my husband asked for his drink in his mug. So it was obvious we were regulars since all the mugs sold out about a year and a half ago.
Our total bill came to a little over $25.00 and we tipped $15.00 because the bar tender was very attentive to us in the very crowded atmosphere. The next day when I checked our bank statement, not only was there the to be expected $40.00 charge, but an extra $12.60, AND another $25.00 charge ...
I immediately thought maybe another bar-tender accidentally used our card for another bill. I called them, and the manager explained that they do that to verify the card, and the two additional charges would be removed within 24 hours. They were currently pending on our checking account, which meant the money was debited from our account, but not officially complete. It took 72 hours before the two pending charges were removed, so for the weekend, we had to factor in that "lost" money when making purchases.

I was kind of upset on several things. A) They never told us about any additional charges. B) Why did they have to give us 3 separate charges? C) What If we had only had $50.00 in our checking account, which is probable for most Towson College students in this economy. If we had known about those charges, we would of just paid in cash.

I think it's getting very excessive with all this minimum charges, and frustrating that bars don't tell you this most of the time.

I've never legally looked into it my-self, but I have had friends that have some legal knowledge tell me it's actually illegal in Maryland for business to require or charge a minimum on credit/debit cards.

I was just wondering if any of your other readers have had this experience also.

(Sun photo by Gene Sweeney Jr.)

Posted by
Sam Sessa
at 9:23 AM |
Permalink
|
Comments (18)
Categories:
Bars & Clubs