Whatchadothisweekend?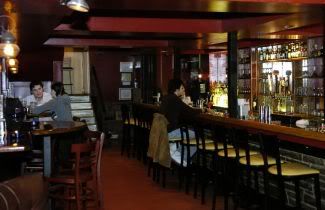 Do people drink more when it's cold or hot outside?
I think I tend to drink more when it's cold and I'm hunkered down inside a warm bar. I had a couple Abita Turbo Dogs at Dionysus (pictured) Friday night (great stuff, but it sneaks up on you) and hosted two free live tapings at The 8x10 Saturday afternoon. Both went swimmingly.
I'll post more about them when the episodes air and some video is up.
Had a couple McHenrys at Ropewalk Saturday evening with the WTMD crew (we had the dining room almost to ourselves, which was nice).
What was everyone else up to?

(Photo by Gene Sweeney Jr./Sun photographer)

Posted by
Sam Sessa
at 10:46 AM |
Permalink
|
Comments (2)