My first Washington Monument lighting
Ever been to the annual Washington Monument lighting?
Last night was my first time. And in classic Baltimore fashion, it was quite the ordeal.
This year, they had some kind of special fireworks rig, which meant they had to completely cordon off Charles Street.
If you're not familiar with the streets, this is how it works: Mount Vernon Place is this beautiful park, divided up into four blocks -- north, south, east and west. It looks like a cross on a map. And the Washington Monument is smack in the middle.
All the festivities (vendor booths, a stage with live performances, etc.) took place on the west square of the park. Amie and I thought we could walk up to the festivities from any direction. Silly us.
Turns out, you could only walk up to it from the west side. They had every other direction blocked off.
After spending 15 minutes figuring this out (the uniformed city official we talked to wasn't too helpful), we got around to the stage side -- just in time for the lighting.
It was classic Baltimore ...
There was some kind of choir on stage, but for some reason, nothing was coming through the PA. Maybe the mikes were malfunctioning, or they just weren't loud enough. But we couldn't hear anything.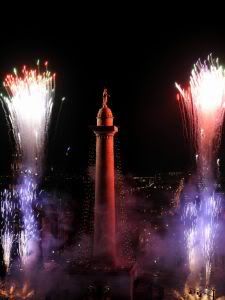 Side note: I also heard that the WBAL TV crew set up this giant tent down by the stage which blocked a bunch of people's views. Anything for the perfect shot, right guys?
When the fireworks started, it was hard not to laugh at the sexual innuendo of it all. I mean, look at the photos! This has to be Baltimore's most lude lewd holiday tradition.
And, in classic Baltimore fashion, half the lights draped from the monument went out seconds after they were lit. Hee hee. And when a couple fireworks boomed particularly loud, somebody behind us said "Don't worry, we're not in West Baltimore."

Now, I don't mean to sound like a jaded snarky journalist -- once we got to the right square, we had a great time. The sights (parents and children sipping hot chocolate) and smells (roasted peanuts, kettle corn and cigarette smoke) all came together to create a crisp, exciting holiday evening.
Yes, the foot traffic situation was way convoluted and yes, half the lights went out, but gosh darnit we're not going to let that stop us celebrate the holiday season. And that's Baltimore spirit for ya.

Now that the Washington Monument is lit, it's official: Happy Holidays, gang.
Click here for more photos of last night's fesitivities and past Washington Monument lightings
(Photos by Monica Lopossay/Sun photographer)

Posted by
Sam Sessa
at 11:31 AM |
Permalink
|
Comments (24)
Categories:
Random stuff