My first concert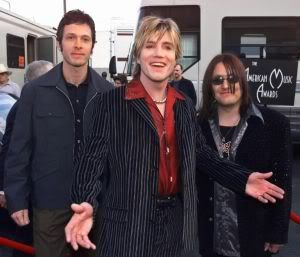 Ahh, high school. Fast cars, raging hormones and other such coming-of-age cliches.
I didn't see my first real concert until high school. I don't know what your first concert was, but I'll bet it was something silly. Mine was pretty silly.
I was in 9th or 10th grade when I bought tickets to see the Goo Goo Dolls.
Fastball (remember them?) opened the show, which was in an auditorium at a college in Delaware (can't remember which one, but the whole state is best summed up in this short video clip).
This was the late '90s, right after the Goo Goo Dolls released Dizzy Up the Girl, and they were riding high on the hog.
For a long time, I was ashamed to admit that the Goo Goo Dolls was my first show. I had friends whose first concerts were cool bands like Green Day.
But now I'm not bashful about it ...

The Goo Goo Dolls were pretty good live, if I remember correctly. I mean, they pretty much played the album tracks verbatim. There was one soccer mom for every two suburban teenagers in the crowd. Everybody loved the Goo Goo Dolls, right?
Heh.

The Goo Goo Dolls was one of those bands that released hits that sounded nothing like any of its previous material. So when the band played the hits, everybody sang along. But when the band played older punky hard rock stuff everybody went to the bathroom. Kind of like Sugar Ray (remember them?).
I remember leaving the show on cloud nine. I think that feeling is part of why I write about music now.
Do you remember your first show?

(Photo of the Goo Goo Dolls in the late '90s by the AP)

Posted by
Sam Sessa
at 9:57 AM |
Permalink
|
Comments (52)
Categories:
Local music
,
Random stuff