Memories of the old Sonar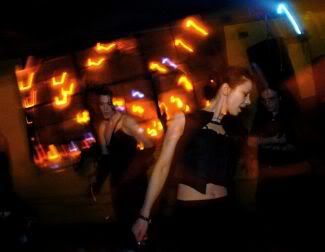 Midnight Sun reader Steven Dashiell sent me this short piece about the old Sonar. It hits upon some great points, and I wanted to share it with you:
About a week ago, one of my close friends was lamenting about Baltimore's sheer lack of bars for the "professional set." This doesn't mean a stodgy cigar bar or obnoxious frou-frou place where the average metrosexual sips an apple-tini.
No, he was talking about a bar where a 30-something could go and hang out, chill, and just be around like minded individuals and not be overrun by the hyper-energized 20 something set and the trolls that seem to leer after them. A place where good music doesn't always mean the newest pop sensation put to a dance beat. Where I can say the name "DJ Shadow" and the average person doesn't say "Who?"

When I first moved to Baltimore (and I wasn't in the professional set then, just some 20 something) there was a bar like this, and it was called Sonar. Not the Sonar of which exists downtown now. It was quietly situated in Canton Square.
It was a small place, with a dancefloor half the size of my living room, and a dim light setting. Plush couches and comfortable chairs were around with bowls filled with wasabi peas. The general sense was relaxed, and the music sounded more like club music that was inventive rather than replicative (I commonly mention XM Chill as the style of music that was played there) ...
I mention this place wistfully to my friend, who points out, hey, there's still a Sonar, so we should go there.
Yet, I knew from the warehouse setting that this was NOT the Sonar of my memory. This reminded me more of someone's attempt at Nation than a replication of that which was Sonar. Even the "comfy rooms" seemed out of place.
It was like losing the love of your life, and staring at the zombie of that loved one as they amble through existence, sharing only the name of your lost love.

I do realize there are many that probably adore the "new" Sonar, but I am sadly not one. I, who don't have an entrepeneureal bone in my body, was seriously thinking of opening a bar that recreated the Sonar feel, just to have someplace the "professional set" can call home. But how long before even that place, a try to recreate Carthage, turns into something alien and unfamiliar? Not long, I suppose. Such would be true if I found another 30-something gem hidden somewhere; it couldn't last forever, and stay the same.

I will age, and join the 40-somethings and find myself content with home parties with wit and stories of days gone by, as my images of the old Sonar become more and more a distant memory. I hope that everyone finds a place like that, where it isn't about the beads of sweat on your brow, or the scribbled drunken numbers in your pocket, but the ability to sit somewhere and feel ... home.
(These two photos are the oldest ones I could find of Sonar. I'm not sure if this is of the old Sonar or not. They're from early 2004, and they were taken by Sun photographer Kenneth K. Lam)

Posted by
Sam Sessa
at 1:57 PM |
Permalink
|
Comments (17)
Categories:
Bars & Clubs
,
Local music