I hate plastic plates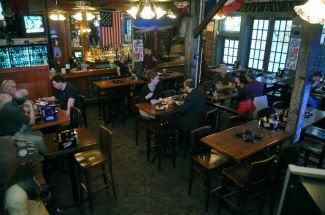 Well, let me be a little more specific: I hate it when bars and restaurants serve food on plastic plates. It's equally despicable when bars and restaurants serve drinks in plastic cups.
Plastic cups and plates are only OK when it's past midnight and the kitchen/bar has run out of regular dishware. That's understandable.
But when Amie and I were in Ropewalk Tavern (1209 S. Charles St.) for dinner a couple nights ago, our server brought us little black plastic plates with our order of nachos. Our burgers came out on plastic plates too.
We asked our server what the deal was, and she didn't know ...

It wasn't late at night. And it wasn't a weekend -- it was a weeknight. And and and there weren't that many people there. Heck, half of the tables in the dining room (pictured) were empty. Argh!
If memory serves, this happened to me at the short-lived super club Palma.
It makes me clench my teeth and "Grrr."
I mean, if I want to eat and drink off plastic stuff, I'll go to K-Mart, get plastic stuff and eat and drink off it. Give. me. a. break.
(Photo by Gene Sweeney Jr./Sun photographer)

Posted by
Sam Sessa
at 10:51 AM |
Permalink
|
Comments (15)
Categories:
Bars & Clubs