Here's how to get Caleb and Saleem's album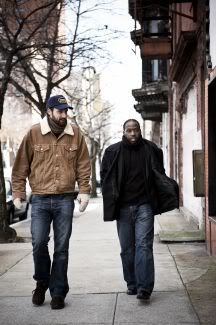 A few of you read my piece about the Baltimore Music Project and wanted to buy Caleb and Saleem's album.
Or maybe you heard about it at the last Stoop Storytelling event at the Meyerhoff on Monday evening.

Here is a link where you can get the album, titled Outgrown These Walls.
If you're not familiar with the project, here is the backstory:
In early 2008, I had an outlandish idea: Take two Baltimore musicians who had never heard of each other, pair them up and force them to write four original songs in six weeks.
And the musicians I picked, Caleb Stine and Saleem Heggins, couldn't have come from more different backgrounds. Caleb was an Americana singer/songwriter; Saleem an MC who liked vintage hip-hop. But the friendship they forged and the songs they wrote in a matter of months are astounding.
The first time Caleb and Saleem performed this music live, audience members teared up. Together they have far exceeded the original challenge and created something truly compelling.
I can't recommend this album highly enough -- especially as a holiday gift. You can order it online or just drop by Atomic Books (3620 Falls Road, 410-662-4444) and pick one up.
Support local music. Get a copy of Outgrown These Walls.
(Photo by Michael Patrick O'Leary)

Posted by
Sam Sessa
at 2:13 PM |
Permalink
|
Comments (1)
Categories:
Local music