Back to the Laughing Pint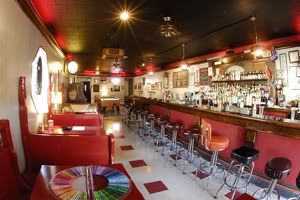 Shortly after the Laughing Pint opened two years ago at 3531 Gough St., I wrote this:
It's really tough to drastically change a bar without driving off its old clientele. When Shannon Cassidy bought an old Highlandtown corner pub called Casey's, she wanted to find that middle ground.
Well, I went back to the Laughing Pint last weekend to see how Cassidy's corner bar was doing.
And I'm happy to report that the Laughing Pint is flourishing ...

It now has a kitchen, new furnishings and about a dozen delicious beers on tap. I had a scrumptious Sierra Nevada Celebration Ale and my friend Joe had a Guinness.
Cassidy was behind the bar serving drinks the Friday night we went. She said business has grown steadily over the past couple years. They've kept the local base and also attracted some newer neighborhood residents.
I'm not surprised.
Cassidy knows how to run a bar, and instantly makes you feel right at home.
(Photo courtesy of laughingpint.com)

Posted by
Sam Sessa
at 1:38 PM |
Permalink
|
Comments (8)
Categories:
Bars & Clubs