The Abbey Burger Bistro replaces Sky Lounge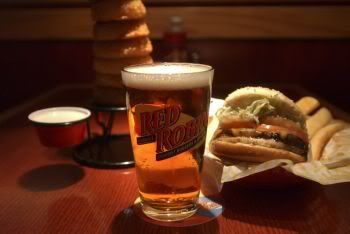 Looks like the long, troubled Sky Lounge saga has finally come to a close.
Starting tonight, that space will be The Abbey Burger Bistro, an upscale burger joint run by former Ryleigh's Oyster manager Russell Miller.
The bar will have a scaled back, drinks-only soft opening tonight, and should start serving lunch and dinner Monday Nov. 17.
Miller spearheaded a pretty thorough renovation of the place, which included tearing out all the drywall to reveal the exposed brick walls, opening up a couple bricked-in windows, and installing a wood floor and bar upstairs.
"It turned out nice," Miller said. "It's got an older feel, with a little more character."
Miller has big plans for the drink list ...

It will eventually include six to eight beers on tap and 60 or 70 bottles. He wants the bottled selection to focus primarily on Belgian beers and others such as Merry Monks' Ale. Oh, and let's not forget Federal Hill favorites Miller Lite, Coors and Budweiser. Yum.
The Abbey will also stock about 30 wines, ranging from $6 a glass to $40-$50 a bottle.
Sun Food Empress Elizabeth Large will post all the details about The Abbey's burger selection on her blog, Dining@Large.
The Abbey is at 1041 Marshall St. The main number is 443-453-9698, but that will change in the next few days. I'll post the new number and the Web site, when they go into effect.

(Since The Abbey opens tonight, the best I could do for a photo was this one, of a burger and beer from Red Robin in Columbia. It's by Baltimore Sun photographer Elizabeth Malby.)
Posted by
Sam Sessa
at 12:23 PM |
Permalink
|
Comments (21)
Categories:
Bars & Clubs