Resurrection in bottles? Yes, on Dec. 16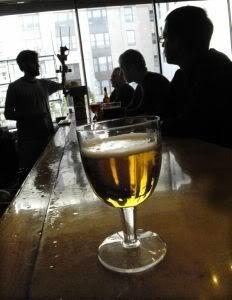 It's about time!
At long last, we will be able to buy the delicious Resurrection Ale in bottles.
Tom Creegan of Brewer's Art (the brew restaurant that makes the scrumptious stuff) sent me an email last week confirming it.
It will be released in a 750 milliliter bottle on Dec. 16.
In other Brewer's Art news, the first tapping of the Saint Festivus holiday ale is tonight. It's ginger spiced brown ale.
Happy holidays!
(Photo by Jed Kirschbaum/Sun photographer)
Posted by
Sam Sessa
at 2:15 PM |
Permalink
|
Comments (16)
Categories:
Bars & Clubs