Patrick's of Pratt Street drastically scales back hours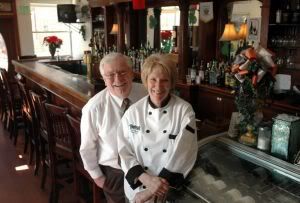 Patrick's of Pratt Street (934 W. Pratt St.), the country's oldest Irish pub, will only be open one day a week for the next couple months, according to owner Patrick Rowley.
The reason? Rowley and his wife Anne (pictured) opened a much larger sister location in Federick Oct. 15, and need to spend time getting it up and running.
"We had to move away from Baltimore and catch our breath," Rowley said.
"We've got so much to do up here, we just don't have the time to operate the Baltimore location on a full-time basis until we're really settled in Frederick." ...
Until then, Patrick's of Pratt Street will only be open Sundays at 2 p.m. Don't worry -- Rowley doesn't plan on selling the place.
"It's only been in my family for 161 years," he said.

The new Patrick's Irish Pub and Restaurant, is open at 11 a.m. seven days a week at 16-18 E. Patrick's St. It seats almost 200. Call 301-668-0668.

(Photo by Barbara Haddock Taylor/Sun photographer)
Posted by
Sam Sessa
at 12:09 PM |
Permalink
|
Comments (13)
Categories:
Bars & Clubs