I love Jenny Lewis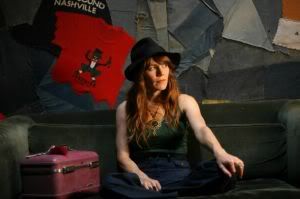 My friend Pat Gavin really, really likes the singer and songwriter Jenny Lewis.
Ever heard of her? If you listen to indie rock, you probably have.
If not, all you need to know is, she's a child actor turned singer. She fronts a band called Rilo Kiley, and released two solo albums in the past couple years.
I've heard people praise her. I've heard people tear her down.
Today my dear friend Pat wants to share his love of Ms. Lewis with all of us.
This time next week, I'm going to take up the anti-Jenny Lewis stance. But for now, here's what he thinks ...

In the interest of full journalistic disclosure, I will now admit a few things. I like Jenny Lewis ... a lot.
That lovely picture Sam put next to the article -- that's my computer desktop. I like her more than I like my iPhone. But what's not to like? She writes, sings and performs the crap out of her songs. And her fiery red hair smells like cinnamon (I just assume).
Jenny has forever been a fantastic storyteller. As one Amazon reviewer puts it, the tri-perspective "A Man/Me/Then Jim" from More Adventurous is the sort of song that "makes you stop whatever you're doing and just listen." Her skills as a raconteur are in full effect on the new solo joint Acid Tongue, in full-on rock medleys "The Next Messiah" and "Jack Killed Mom."
Jenny's talents have been evident since her Saddle Creek days: An angelic voice working in perfect synergy with lyrics that are endearing one second ("it's your little red wagon and you've got to pull it") and breezy the next ("My momma is an atheist / If I stay out late she don't get pissed") ...

With "Acid Tongue," she still plays to these strengths, but without a radio-friendly pop single in sight, she isn't likely to become American's sweetheart just yet. In other words, it's still not to late to adore her, cannibalize and co-opt her identity and music into part of your pathetic indier-than-thou personality and then get tired of it all and spit her out all before your friends with only a casual interest in music discover her. I mean, you know, if that's your thing.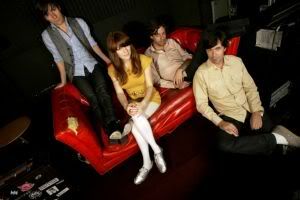 Maybe you didn't like "Moneymaker" from the last Rilo Kiley album, Under the Blacklight. One year and twenty two new Rilo/Jenny songs later, it's time to get over it.
Personally I liked that tune (especially the acoustic version the crafty Googler can find on the net). Sure it was virtually verse-free, but hell, a bunch of Dylan songs didn't even have refrains. If "Moneymaker," Jenny's "gone electric" song of sorts, wasn't your cup 'o tea because you thought it was a major label compromise, OK, I can see that. But to date, it's been her only compromise in nine years and seven consistently excellent albums.
For the artist with a work rate that makes Lil' Wayne look like a slouch -- contributing vocals and verses to Elvis Costello, the Postal Service and others while churning out an album a year -- the joy is in seeing what Jenny will do next.
(AP photos)
Posted by
Sam Sessa
at 8:26 AM |
Permalink
|
Comments (3)
Categories:
Random stuff