City police to stop moonlighting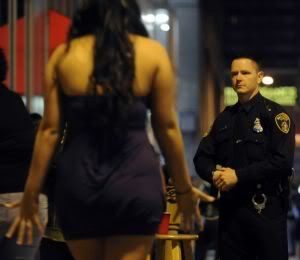 In a couple weeks, Baltimore city clubs will no longer be able to hire city police officers to work security outside their establishments.
You ever walked up to a bar or club -- say, Power Plant Live or Nobles -- and seen uniformed police officers standing watch outside? That's what I'm talking about.
The way it works is, bar/club owners pay overtime rates to have police officers stand guard outside. They say it deters violent crime -- especially when rowdy patrons spill out onto the streets at closing time.
But the police department said the program raises too many liabilities and conflicts of interest, and decided to end it. Cops reporter Justin Fenton and I teamed up to write a story about this issue. The piece ran on the front page of Saturday's paper. Here is a link.
As you can imagine, the bar owners are none-too-pleased with the police department's decision ...
Neither is the police union. Turns out, city police officers make a good chunk of change by working overtime outside clubs. And since the city is currently cracking down on overtime pay, they're going to be making significantly less money.

Since I helped write a non-biased news piece about this issue, it's not right for me to take sides. Thankfully, Sun crime writer Peter Hermann weighed in on this topic on his blog, Baltimore Crime Beat. He thinks ending the program is a necessary and prudent move, and he has some interesting insights.
Head over to his blog and weigh in on what you think is the right move.

(Photo by Monica Lopossay/Sun photographer)
Posted by
Sam Sessa
at 12:47 PM |
Permalink
|
Comments (5)
Categories:
Bars & Clubs