Where do these kids come from?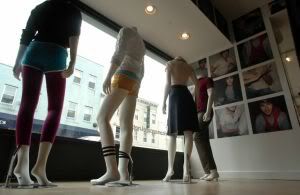 I often wonder how the American Apparel in Federal Hill (pictured) stays in business.
This clothing store seems to cater mostly to hipsters and fashionistas. It's a place where people spend a lot of money on clothes that make them look like they haven't spent a lot of money on their clothes.

But Federal Hill is a neighborhood of post-college kids, married couples with small children, natives and retirees. If you rounded up all the hipsters in Federal Hill, they would barely fill Dangerously Delicious Pies on Light Street.
I rarely see anybody in the place except the people who work there. But every once in a while, I see a customer or two walking up the sidewalk to the store...

No, wait, I mean, bicycling up the sidewalk. Or maybe driving one of these up the street.

And every time, I'm like, 'Where do these kids come from?' If they live in Federal Hill, I never see them. Do they come from the county? From Hampden? Charles Village?
And how can they spend enough money to keep the store in business? Rent on Light Street can't be cheap. This is, I think, the question of the century.
(Sun archive photo)
Posted by
Sam Sessa
at 11:46 AM |
Permalink
|
Comments (15)
Categories:
Random stuff