Whatchadothisweekend?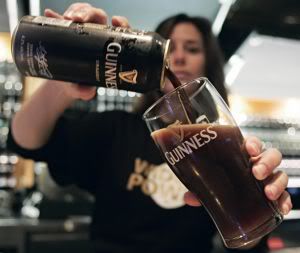 Gooooooood morning!
How is everyone feeling this glorious Monday morning? Peachy keen?
Well then, let me share with you my weekend exploits. Has anyone been to Fado Irish Pub (808 7th St. NW) in Washington? We stopped by there on Friday night for a couple beers.
Fado has a generic, McIrish pub feel (and it tries really hard), but I couldn't complain about the service.
Washington may be more expensive than Baltimore ($6 for a Guinness) but I'd gladly pay a buck extra for better service.
Anybody go to Fort McHenry's Welcome-Home-Michael Phelps party? Or the Fells Point Fun Festival? I was there for a few hours yesterday volunteering in the beer garden. Like I said, it was tough, but someone had to do it.
(AP photo of someone pouring Guinness. At Fado, they have Guinness on tap. But this was the best photo I could find in a pinch.)
Posted by
Sam Sessa
at 10:24 AM |
Permalink
|
Comments (8)