Whatchadothisweekend?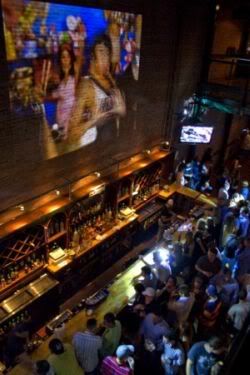 Helllloooo and good morning!
We should have a lot of happy campers out there considering how the Ravens made snicker-snack of the Dolphins yesterday.
How was everyone's weekend? I had a rather relaxing one myself. Friday night some friends and I went to the new Bourbon Street super club on Guilford Avenue (pictured).
I really liked the space -- true to its history, the building still has a warehouse feel. But the renovations (wood floor tiles, etc.) added plenty of warmth.
On Friday nights, Bourbon Street runs a pretty crazy special -- women get in for free and drink for free.
You'd think tons of people would take advantage of that.
But at 11 p.m., the club was less than a third full.
After checking out Bourbon Street, we went to the newly reopened Metropolitan Coffeehouse and Wine Bar.
That's right -- the Metro is back in business on South Charles Street ...

After being closed for several months due to an electrical fire, the Metro has the same welcoming vibe. The dark wood shelves behind the bar and tables and chairs in the first floor dining room looked new.
The espresso martinis (one of the Metro's selling points) are as tasty as ever, but come in significantly smaller portions. Stupid recession.
What were all of y'all up to? (Did you like "all of ya'll? It rhymes!)
(Photo courtesy of Bourbon Street Baltimore)
Posted by
Sam Sessa
at 11:00 AM |
Permalink
|
Comments (4)