What Charles Plaza needs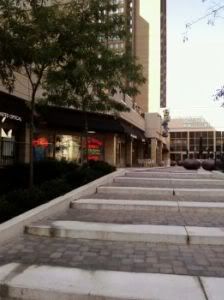 I walked by Charles Plaza the other day, and I got to thinking -- this place needs a cafe/wine bar type place.
The first thing that came to mind was Kiss Cafe, which just closed. But I think Kiss Cafe's closing had more to do with management than the space itself. Who knows?

Either way, I think a cafe with a liquor license -- similar to One World Cafe (100 W. University Parkway) -- would be a good fit there.
You already have a classic Irish Pub right down the street (Mick O'Shea's) and plenty of expensive restaurants up and down the Charles Street Corridor.
And there are plenty of young professionals living in the neighboring high-rise apartments -- more than enough to fuel this place.
Thoughts?
(Photo by me)
Posted by
Sam Sessa
at 12:17 PM |
Permalink
|
Comments (2)
Categories:
Bars & Clubs