Tour diary: We are Seahorses lead singer knifed at Baltimore show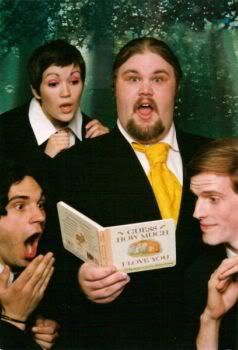 Get ready. This is the most wild, hilarious story you will ever read on Midnight Sun.
Well, maybe the J-Roddy Walston samurai sword story was weirder. But this one is pretty freaking far out there.
I had heard something about the lead singer of the New Jersey-based band We Are Seahorses (pictured) getting knifed at a recent Baltimore gig.
His name is Darren Mabee, but everybody calls him Dale. He describes himself as a "300-pound monster singer guy."
Since there is no way I can do this story justice, I'm going to let Dale describe it in his own words ...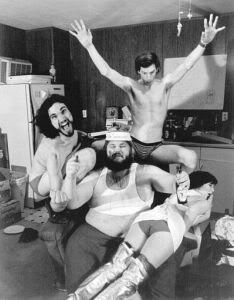 Me: What happened?

Dale: Everyone was wearing Halloween costumes, so we decided our Halloween costume would be Hitler releasing a comeback rap album. We went to the Goodwill store and we got a bunch of clothes: Really baggy jeans, some Allen Iverson jerseys, hoodies and stuff.
We put those on, and we painted on Hitler mustaches. Then we cut swastika bling out of cardboard. So we were wearing these big swastika chains. We came out and we started our song -- we made this really cheesy punk song with a Knight Rider sample; it was really cheesy -- and we start in, and this guy that looks like he's possessed by the devil -- he kind of looked like Charlie Manson -- his eyes were all cloudy, he was small but kind of intimidating and he came over and stood where we were playing ...
I could tell he didn't get the joke or didn't appreciate it. I was like, 'This guy is going to punch me. What is he going to do?' So I start humping him. I started grinding on him.
The next thing I know, I feel a blade in my side. He was trying to kill me! He cut me a little bit. It was just a little bit. I didn't need stitches or anything. There was blood and stuff. As he was doing it, I pushed the knife away and backed up.
Nobody realized he had a knife. I was like, 'That guy has a knife! Can somebody please pull him out of there before somebody gets hurt?' ... I'm obviously trying to offend people a little bit -- trying to make you laugh. So they took this guy out and he came back maybe 20 minutes later and, finally, I stopped and I grabbed somebody and was like, 'That kid has a knife. He cut me right here. Can you please remove him?' He told people afterward he was trying to cut my swastika off, and I guess he fumbled the knife.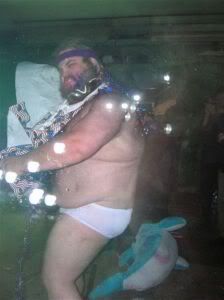 Me: How old was this guy?

Mabee: I have no idea. ... He thought we were actually Hitler releasing a comeback rap album. He didn't realize it was a joke. He didn't understand that. He thought Hitler was actually reincarnated as a Southern rapper. It was pretty intense. That was probably the closest I've come to death. I had a guy throw a microwave at me once, and I've had people throw punches, but never knife me. That was a new one.

Me: Did you learn anything from your near-death experience?

Mabee: I just learned the Holocaust really did happen, and Hitler was a bad person and we should keep it that way. ... It was fun. We got to dance and share some laughs and learn a little bit. It was unexpected, unwanted and kind of little bit necessary.

Me: How bad was the cut?

Mabee: It was just a scratch. He cut my shirt more. I was backing up as he was doing it. But he was going for it. I'm a big guy, and he stabbed me in my fat, so it probably wouldn't have done much. It was a little sore the next day. I got a whole bunch of glitter and paint in it, but I'm fine. I'm going to live another day.
(These are photos of Dale from previous gigs -- not from this particular show. These photos are from the band's MySpace site.)
Editor's note: To be clear, Dale did not seek medical attention or go to a hospital. The police were not called, and the venue declined to confirm his story.
Posted by
Sam Sessa
at 10:59 AM |
Permalink
|
Comments (25)
Categories:
Bars & Clubs
,
Local music
,
Tour diaries