Turning back time with Led Zeppelin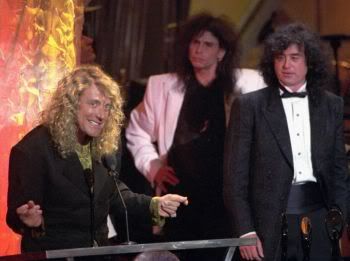 If I had to pick a favorite band of all time, it would be Led Zeppelin. Early on, their music was deeply rooted in blues and early rock and roll. After a few years, the Zep pushed hard rock into uncharted territory.
In 1972 (after four years of endless screaming) singer Robert Plant pretty much blew out his voice. And a few years later, guitarist Jimmy Page's serious drug addiction began to make his guitar-playing sticky and less innovative. The Zep broke up in 1980 after drummer John Bonham died.

This point in time is pretty much where my steamy hot love of Led Zeppelin begins to cool. I dig on a couple of Plant's solo tracks, and of course, the stellar new collaboration with Alison Krauss.
Now, it pains me to watch either Plant and Page perform (they are pictured here in a 1995 stock photo), because they just don't have the chops they once did. I've seen pretty much every post-1980 video on YouTube and none have impressed me.
But then I saw the following video of "Since I've Been Loving You" from Glastonbury 1995. My jaw dropped ...

I don't know how. And thinking about it makes my brain hurt.
But somehow, for this one performance, Plant wails like it's 1970 again and Page expertly shreds his way through the whole song.
It is, in a word, awesome. Listen to Plant hit the super high notes at 3:29, 5:14 and 6:47. My spine gets all tingly. Goodness. Relish it, gang.

Posted by
Sam Sessa
at 11:47 AM |
Permalink
|
Comments (19)
Categories:
Random stuff