So (un)necessary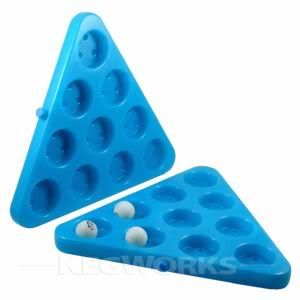 MS reader Lisa tipped me off about this site, where you can purchase all kinds of random drinking game doo-dads, such as the Beer Pong Game Rack With Freezable Center (pictured).
With this one-of-a-kind device, you can not only guarantee a perfect rack -- ALL THE TIME -- but you fill it in water and put it in the freezer before playing so it keeps your beer icy cold!
All this for a mere $21.95, plus shipping and handling.
That's right folks, the double awesome, one-of-a-kind Beer Pong Game Rack could be yours for the price of one 30-pack of Bud Ice.
Personally, I'd rather drink the Bud Ice. But hey -- that's just one man's opinion. I'm sure there are plenty of college kids with money to burn on useless beer pong memorabilia much like this here. Otherwise, this site wouldn't be in existence.
I did, however, find one beer pong accessory I liked ...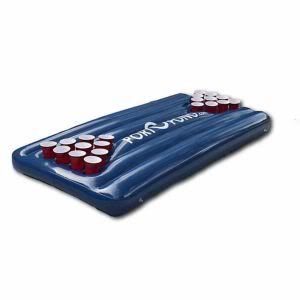 The Inflatable Floating Pool Beer Pong Table.
Oh yeah.
Now this, I'm diggin'. But $59.95? That's just out of my range.
But maybe I'm coming from the wrong perspective. Maybe I should look at it like I'm still in college -- when I had roommates.
See, $59.95 split four ways ain't that bad. That's what, like $15 a person? Yeah, that's more like it.
But what college house also has a pool? Hmmm ...
Maybe I'm thinking about this a little too hard. Either way, I'm diggin' it.
(Photos from kegworks.com)

Posted by
Sam Sessa
at 11:04 AM |
Permalink
|
Comments (7)
Categories:
Drink-ology