The verdict on Joel Madden & Angels Rock Bar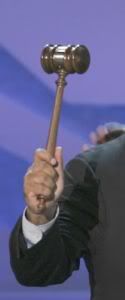 All right. We've heard from all sides of this strange little story. Now Judge Sam is going to reach a verdict on the issue.
In his email, Joel Madden sounds grounded and sincere, and I believe him when he writes that he would never "just cancel on anyone for no reason."
I think it's great he would agree to DJ at Angels Rock Bar's one-year anniversary party at a fraction of his usual fee.

And as Jake Miller of Power Plant Live states, Madden signed a contract that let him back out of the gig up to 14 days beforehand. Madden abided by the rules of said contract.
Mr. Miller and his associates acted in poor taste when they printed those T-shirts. And as for this being an example of celebrities getting away "every day with awful things the common man would not," Mr. Miller, you signed a contract with a cancellation clause. End of story.
Henceforth, I am imposing a six-month moratorium on the editorial mentioning of Angels Rock Bar on this blog.
Case dismissed.
(AP photo)

Posted by
Sam Sessa
at 5:17 PM |
Permalink
|
Comments (14)
Categories:
Bars & Clubs
,
Celebrity sightings
,
Local music