Joe the Plumber cocktail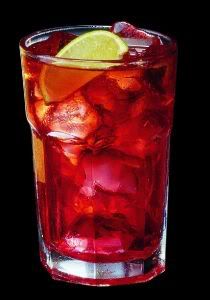 Sorry gang, but I'm not going to be able to blog about music Then vs. Now until tomorrow. I've been waylaid with more important stories (can you believe it? Pesky stories.)
In the meantime, I want to turn you on to Joe the Plumber Cocktail (pictured).
Joe The Plumber has been name-checked by top politicians. He is all over the news.
But as many of you know, you haven't really made it until you have a drink named after you. And here is Joe's drink, called the Everyman's Plumb:
3 ounces red plum juice
1.5 ounces Early Times Kentucky Whisky (they're the people who came up with the drink)
a squeeze of lime

According to a press release they sent out, Early Times is known as the "Working Man's Reward." Hee hee.
This might become my official Election Day Drink.
(Photo courtesy of Early Times)
Posted by
Sam Sessa
at 4:38 PM |
Permalink
|
Comments (4)
Categories:
Bars & Clubs
,
Random stuff