Is this true?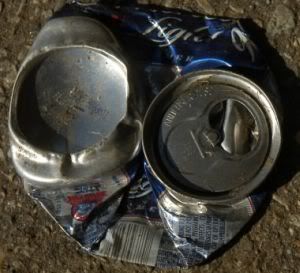 Midnight Sun Sheriff Carla forwarded me the following statement:
If you had purchased $1,000 of Delta Air Lines stock one year ago, you would have $49 left. With Enron, you would have had $16.50 left of the original $1,000. With WorldCom, you would have had less than $5 left. But if you had purchased $1,000 worth of beer one year ago, drank all of the beer, then turned in the cans for an aluminum recycling REFUND, you would have $214 cash.

Based on the above, the best current investment advice is to drink heavily and recycle. It's called the 401-Keg Plan. A recent study found the average American walks about 900 miles a year. Another study found Americans drink, on the average, 22 gallons of alcohol a year. That means, on average, Americans get about 41 miles to the gallon.

This sounds too good to be true. But if it is true, I'm sending a memo to Midnight Sun's senior account executive. This could be a huge new revenue stream!

(Sun archive photo)
Posted by
Sam Sessa
at 7:30 AM |
Permalink
|
Comments (5)
Categories:
Bars & Clubs
,
Random stuff