Inside Deep Flow Studios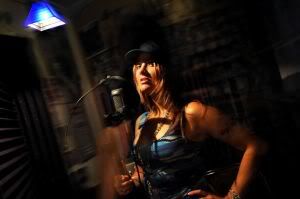 When it comes to Baltimore hip-hop, nobody reps it like Amotion (pictured).
The 27-year-old founded Deep Flow Studios, which includes a recording studio, online radio station, cable access TV show and event promotions.
She's a pioneer in the city's hip-hop community. Here's a link to my profile of her, which ran in today's paper.
"I'm doing really well," she said. "In the scheme of other 27-year-olds who went to college, I don't know about that. But they're probably not having as much fun as I'm having."
Ace Sun photographer Monica Lopossay shot some seriously awesome photos, too.

Posted by
Sam Sessa
at 2:13 PM |
Permalink
|
Comments (5)
Categories:
Local music