Exciting developments in the Homer Saga
Well gang, I have some good news and some bad news.
First, the bad news. As you can see, Bad Guyz have brutally mutilated Homer. They are using scare tactics, and these scare tactics will not work.
As you may well know, we have begun an extensive covert operation to find and rescue our beloved Homer.
And that operation has born fruit. We now hold the smoking gun.
We, Midnight Sun, know who kidnapped and tortured Homer.

Allow me to explain ...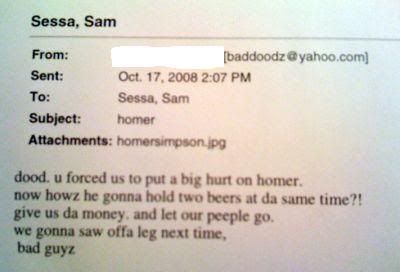 When Bad Guyz sent their most recent email, Midnight Sun's crack team of Interweb Investigators quickly went to work, trying to trace the source.
And we have the source. And it shocked us to the core.
This source was someone we trusted. Someone who was close to us from the beginning. And this person betrayed that trust.

But we at Midnight Sun are not vindictive by nature. We have not tortured our hostages. Nor do we plan to.
Instead, we would like to make a proposal. Bad Guyz, you return Homer by Thursday Oct. 23 and we will return our hostages. If not, we will disclose your true identity. And may God have mercy on your soul.
Posted by
Sam Sessa
at 7:50 AM |
Permalink
|
Comments (7)
Categories:
The Homer Saga