Dueling hookah bars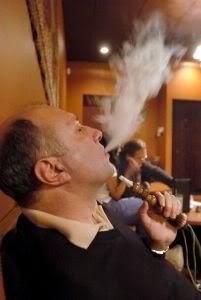 Zeeba Lounge (916 Light St., pictured) has been the city's fanciest hookah lounge for a long time. It has those small cushion seats and rugs on the floor and walls.
But you pay for the atmosphere -- hookahs and food generally cost more there than at other city hookah bars.
If you wanted to trade the snazzy decor for cheaper, better hookahs, you could go across the street to Three Kings of Egypt (1027 Light St.). With its metal chairs, open kitchen and sparse decorations, Three Kings was the unpretentious Zeeba.

But now, new owners have taken over Three Kings and renamed it Arabian Nights.* I peeked inside last weekend and saw black cushy sofas and tables and a black scrim dividing the kitchen from the lounge.

I guess the whole unassuming hookah bar strategy didn't work out for Three Kings. Now, a new approach is in order. Has anyone been to it yet?
*I'm 90 percent sure it's called Arabian Nights, but I have to double-check on the name.
(Photo by Kenneth K. Lam/Sun photographer)
Posted by
Sam Sessa
at 11:07 AM |
Permalink
|
Comments (6)
Categories:
Bars & Clubs