Ingrid Michaelson stumbles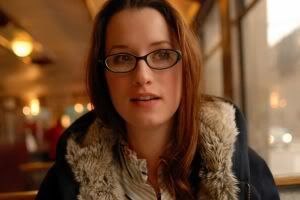 Sun writer Lindsey Citron latched onto Ingrid Michaelson's music.
But Michaelson's new album left a bad taste in Citron's mouth. I think Citron makes some pretty good points. You be the judge. Here are her thoughts:

Does Ingrid Michaelson want to be just OK?
The New York City-based singer/songwriter is probably best known for her singles: "The Way I Am" provided catchy walking music on an Old Navy fall sweater commercial, "Little Romance" debuted on the Sex and the City movie soundtrack, and "Keep Breathing" was featured on the tear-jerking season finale of Grey's Anatomy.
Recently, Ingrid has been trying to transition from a nothing-to-lose indie singer to a more serious headlining performer ...
With lyrics as raw and childlike as "Let's get rich and buy our parents' homes in the South of France," it's clear she's got the talent for it. Her songs straddle the fence between being relatable to the point of comfort and giddily absurd.
So the question is, can Ingrid be an occasional one-hit-wonder as well as a serious artist? After hearing her latest album, Be OK, I don't think so.

The single, "Be OK," hit iTunes on Sept. 2, and the album followed on Oct. 14. The final product felt more like a rush job than a completed project. Just over half of the 11 tracks are new or unreleased, and the other five are a random assortment of covers and acoustic versions of her older songs (like "The Way I Am").
"The Way I Am" was compelling when it debuted, and even the second time on the Old Navy jingle. But the fact that she's recycling her old hits on a new album makes me skeptical.
Even more disappointingly, the track "Be OK" was one of the weaker songs on the album. It lacks her vivid imagery, and the lyrics are nothing new.

You can't build a song around a line, and you can't force an album out of a single. Until Ingrid can come to terms with her place in the industry, she will invariably be stuck in commercial-and-soundtrack-limbo.
(Photos by Deborah Lopez)
Posted by
Sam Sessa
at 7:30 AM |
Permalink
|
Comments (8)