Crazy for Shwayze
My good friend Evan Haga has a confession to make: He has an unnatural obsession with Shwayze.
Haven't heard of Shwayze? You must be crazy!
Sorry, I had to go there. Let me hit you with some knowledge: Shwayze is a California-based hip-hop/acoustic rock duo.
Rapper Aaron Smith (relatively unknown before the group) is Shwayze. He is joined by producer and Hollywood playboy Cisco Adler. They were featured on the MTV reality TV series Buzzin.

Before Shwayze, Adler was perhaps best known for being the frontman of Whitestarr, the son of famed producer Lou Adler and a dude who dates models. Actress Mischa Barton broke up with him after he "leaked" a nude photo of himself on the Internet.

Back to Evan.
Evan paid $20 to see Shwayze perform at Sante Fe Cafe in College Park this past weekend. You may ask yourself, "Why would a 25-year-old go to a college town and pay $20 to see a semi-successful acoustic rap duo?" His answer? "They make me giggle."
Here is Evan's take on the show ...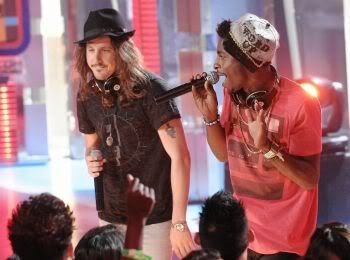 How was the Shwayze gig? I'd put it alongside Springsteen, the Stones, Parliament, the Grateful Dead and Sonny Rollins as the most transcendent live show in human history. Kidding.

It was fun. Considering how inept they were on their reality show (and how they never seemed to perform more than two songs in a set), my expectations were about what they'd be if Sarah Palin were to compete on Jeopardy!
Editor's note: Midnight Sun endorses neither Sarah Palin nor Jeopardy.

But Shwayze and Adler pretty much delivered. There was some twisted sense of professionalism about the pair, even if their job description is to recite moronic rhymes in front of a DJ named "Skeet Skeet" and shout expletives at drunk college kids.
And after looking at Shwayze's eyes, I'm surprised he could stand up much less remember his rhymes—especially the really heady ones like "She said, 'Boy, you crazy'/Nah, I'm Shwayze."

I'm being overly cynical about a group I actually paid 20 bucks to see. Critics destroyed their record, and they probably should have, but it interests me if only because it's the most morally damaged music marketed to teenage girls since hair metal (also, not surprisingly, a Los Angeles invention).
The pot references are one thing, but one tune, "Polaroid," has the line "At a party on the hill/I popped a pill/Threw back a shot/And started to chill." Nice, guys. This isn't a cautionary tale, but a song about how efficient it would be to photograph the young ladies you womanize because remembering their names is way too hard.
That sort of rhetoric is all over the album: The hit "Buzzin'," a song that at least feels romantic, is Shwayze's "Ramblin' Man" confession: "I move on like the Greyhound bus/I go town to town/And I prey on [a slang term for sexually promiscuous women that sort of rhymes with "bus"]."

At least he's honest, and I think the inebriated party girls who got onstage to grind appreciated that candor.

Adler, who at age 30 has developed into a totally awesome 19-year-old, can write a hook (almost literally, because they all sound the same). And he opens songs with their choruses a la Phil Spector, so there's some production savvy there too.
Adler also produced "Corona and Lime," a hit whose chorus lyrics have nothing to do with the words in the verses. Very postmodern. Of course, when that song's three-note intro kicked in and the sold-out crowd screamed and swilled more beer (try and guess what kind), the lack of continuity didn't seem to be a problem.
(AP photos)
Posted by
Sam Sessa
at 7:31 AM |
Permalink
|
Comments (4)
Categories:
Random stuff