Anyone for a U-beer?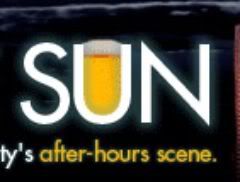 Don't know if you've noticed or not, but the official Midnight Sun masthead (the logo near the top of the screen) has changed.
Midnight Sun's signature drink is no longer a Moon-tini (a martini garnished with a slice of moon). It is now a U-beer (a beer served in a large letter U).
Several surveys and focus groups all rigorously endorsed the new logo. The general sense was that "Sam Sessa is more of a beer guy than a cocktail guy."
Midnight Sun's online staff subsequently sprung into action. And we are all better for it. Effective immediately, Midnight Sun will officially endorse any bar which serves U-beers.

Posted by
Sam Sessa
at 7:57 AM |
Permalink
|
Comments (5)
Categories:
Random stuff