That sounds just like ...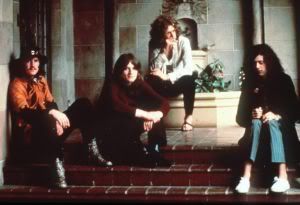 You ever hear a song on the radio and swear up and down it's one of your favorite bands -- until the DJ comes on and says it's somebody else?
There are more than a few bands with big hits that sound exactly like another band. I mean, almost identical.
A couple songs like this immediately come to mind. The first one that always confuses me is "Lonely is the Night" by Billy Squire. This tune -- from the high pitched vocals to the fuzzy guitar riffs and booming drums -- has Led Zeppelin (pictured) written all over it.
I'm a big fan of the Zep. The first time I heard "Lonely is the Night," I was stunned. Was this a Zeppelin song I'd never heard before? Where did it come from? I own all their albums. But did I miss something?
Nope. It was Billy Squire, who I'd never heard of at the time.
But wait, there's more ...
The sad thing is, this is one of Player's biggest hits. I think it might have been their biggest hit. And I'll bet thousands of people still think it's Hall and Oates.**
I'm sure I'm not alone in this.
Do you guys have songs that you swear up and down are by one of your favorite bands but actually turn out to be somebody else?
*By the way, this Hall and Oates video is on my Top 10 Most Awesomely Bad Music Videos of All Time. It's hard to pick a favorite part, but I'd have to say the best comes near the end when Oates tries to play the guitar but his coat sleeves are too long. It's symbolic for something. I'm just not sure what.
**I wonder if fans or interviewers have ever confronted either Player or Billy Squire about this phenomenon. That kind of question has the potential to make things really awkward really fast, though.

Posted by
Sam Sessa
at 2:01 PM |
Permalink
|
Comments (10)
Categories:
Random stuff