Swingin'!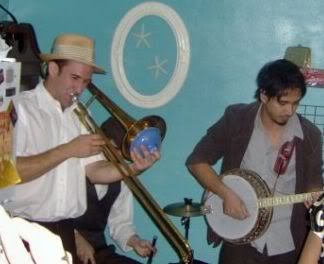 If you're planning on hosting a swinging 20s party anytime soon, I have a recommendation.
Instead of just playing 1920s CDs, why don't you hire Sac Au Lait?
My friend hosted a '20s party this past weekend, and three members of Sac Au Lait dropped by to perform a short set in her kitchen.
The only instruments were a snare drum, trombone and banjo. But oh boy did these guys swing. I gave them bonus points for dressing the part.

If you'd like to see the boys in action, head to Joe Squared (133 W. North Ave.) Oct. 2. I think it's even a free show.
Posted by
Sam Sessa
at 11:19 AM |
Permalink
|
Comments (2)
Categories:
Local music